Home Page
2005 Celebrities
Photo Gallery
Online Store
Charities
Links To Our Friends
Our Sponsors!
For Members Only

---
Deadly Shoals Links:
To add a link to our site, please use one of the following banners!

The Amityville Horror:
The OFFICIAL website of the most famous haunting in America. A controversial and hotly debated topic, find out what REALLY happened to the lutz's in this true haunting. www.amityvillehorror.com

---

Quality Inn and Suites:
If your traveling to Hickory, we suggest the Quality Inn and Suites! Ideally situated as a gateway to the Smokey Mountains! The Quality Inn is where all our guests stay! For reservations, call 1-800-431-0678


---

Toppers Pizza:
Carry Out and Free Delivery!
2014 North Center Street (Hwy 127 N.)
Phone: (828) 431-4444
Email: Hickory@Toppers.com


---
Carolina Mills:



Founded in 1928, Carolina Mills Inc. has supplied products to the textile industry for 75 years! Special thanks to them for sponsoring us in 2004!


---
Hauntyourhouse.com:



Learn how to turn your house, yard or garage into a haunted attraction for Halloween!


---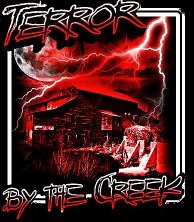 Terror By The Creek!
One Of The Coolest Haunts Ever!
---