Home Page
2005 Celebrities
Photo Gallery
Online Store
Charities
Links To Our Friends
Our Sponsors!
For Members Only

Attention: The message board has been moved to the MEMBERS ONLY section of the website.

---




---


Attention: Abusive posters will have their IP addresses banned from using shoutbox, and their messages will be forwarded to their internet provider.


Deadly Shoals Haunted Trail: 2005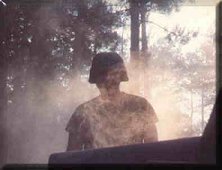 There's something strange going on in the woods near Granite Falls, North Carolina. Residents say that it all started when the military began building a base near town.

Some of the local townsfolk claim they are performing TOP SECRET government projects there. There's even talk of experiments to re-animate the dead...
---
Corporate Sponsors: Thank You!
The Deadly Shoals Haunted Trail team would like to thank all of our wonderful sponsors in 2004, it couldn't have been done without you all. Together we all helped raise money for charity... something dear to our hearts. Thank You.


---

Special Discount Savings:
Click the link below, and print our special discount ticket to bring with you to the trail for a savings of $2.00! Save another dollar by bringing a canned donation. All profits go to local charities.



Click here and PRINT your ticket!
---
Directions To The Trail:
If you need directions to our haunted trail, just type in your address below!

Event Dates And Times:
October 7th, 8th, 14th, 15th, 16th, & October 20-31, 2005

Trail Hours:
Weekdays: Dusk - 10:30p.m.
Weekends: Dusk - Until Last Victim.

Location:
722 Dudley Shoals Rd.
Granite Falls, N.C 28630

Ticket Information:
$10 for Adults
$6 for kids under 12
Attention Soldiers: Show your military I.D. at the gate, and you get in FREE!

** Due to the intense nature of this year's trail, no children under the age of 12 will be admitted without parent!!
---
For the best haunted entertainment in North Carolina, go to:


---
Help us by making a small donation to cover some of the cost of construction. Or if you don't wish to donate money, you can contact us with donation of supplies such as wood, wire, and anything else. All donations are greatly appreciated.